God Loves a Loser
Fate Intended tour continues! Visit me at Jeff Hargett: We'll talk Heaven
What is ubuntu? "In Africa, there is a concept known as UBUNTU – the profound sense that we are human only through the humanity of others; that if we are to accomplish anything in this world, it will in equal measure be due to the work and achievement of others." – Nelson Mandela.
Still a little confused about ubuntu? Check out
Damaria's
ubunto post on what it means to be
ke motho
, or to be human.
I have to admit. I was scratching my head about the concept, and reading Damaria Senne's post blew away the fog. As I was reading hers, I remembered a sermon by a former minister from my church.
Reverend Tenny grabbed my attention one morning by taking the pulpit and announcing, "God loves a loser."
Hmm? What's that?
According to Rev. Tenny, sometimes the very things that help us get ahead in life are the sort of things that won't get us ahead in Heaven. If becoming successful requires back stabbing, social climbing, deceit, brags, and ignoring friends and family...how is the virtuous man to get ahead?
Answer is...sometimes you can't. Sometimes you hang in the mid-list with stains on your carpet and holes in your couch. Maybe you don't even bother to cover your roses because you were busy running boys here and there and making sure your half-blind mother got to the store.
But you get to remain human.
That's ubuntu. It's the concept of motho ke motho ka batho ba bangwe, or a human is a human because of other people.
And sometimes, when it's all said and done...the best compliment a person can get is to be called human, or ke motho.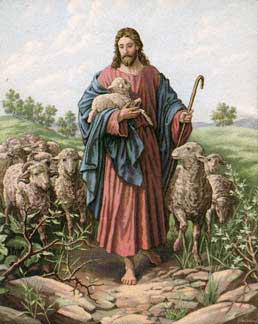 Michelle suggested we add some art.
When I was a little girl, our church had a stained glass window of Jesus holding a baby sheep...much like this one.
I embarrassed my parents as a little girl by throwing a full blown temper tantrum, complete with tears and kicking feet, because no one would let me go play with Jesus and the baby sheep.
I hardly remember it. I think it's all a story, because everyone knows: I am sweet and moderately tempered. Shoot, I doubt I even cried as a newborn ;)