To Honor and To Serve
On this Memorial Day, I wanted to pay tribute to the glamorous or the not-so-glamorous side of military life.
I know a little (okay, very little) something about it...my big brother, Dennis, was career Army.
Sgt. Hartman was responsible for molding humans into heroes.
He'd tell stories of making soldiers polish side walks, scrub garbage cans, and the notorious cleaning of the toilet with a tooth brush.
Why? Why would you do that?
Because a soldier's life may depend on him or her following a directive quickly- without argument- without exception.
It's in this way, little by little, step by step a soldier becomes part of a stalwart guard to freedom and liberty.
And whether jumping from a plane or polishing a boot until you can use its reflection to shave your own high and tight...a free nation thanks you. And offers you multitudes of blessings.
To you and your family- thank you for the sacrifice.
*Also on this Memorial Day...writers are once again united to help one of our own. David Farland's son is making his own step by step recovery.
Ben Wolverton, age 16, was in a tragic longboarding accident on April 3rd, 2013. He suffers from severe brain trauma, a cracked skull, broken pelvis and tail bone, burnt knees, bruised lungs, broken ear drums, road rash, and pneumonia. He was in a coma, but has recently awakened. His family has no insurance.
Ben's treatments are already over $1,000,0000.
Ben will need extensive therapy as he relearns how to walk.
Please consider donating money to his cause.
Ben's Website
Want an easy way to help?
On June 4th- Ben's dad, David Farland, has asked everyone to remember Ben's struggle by doing a Twitter Bomb. Tweet your support for Ben using the #'helpwolverton
On June 7th- Supporters would like to do a "donation bomb". Go to
Donate Now
and make a donation, no matter how big or small...just show Ben there are people rooting for him!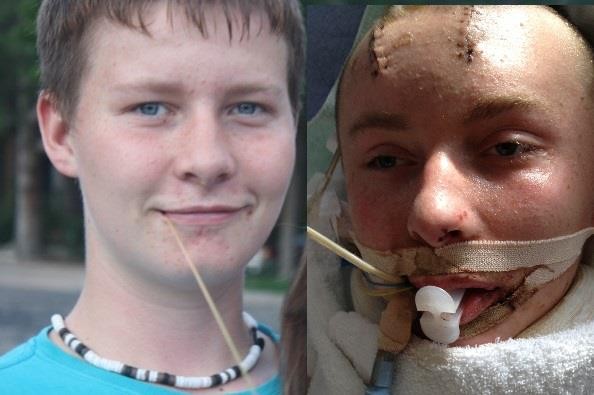 Ben
To help Ben (and to honor our military at the same time!), I'm going to give away a Wolverton tee. To see the tee and read more about Ben's progress click
HERE
a Rafflecopter giveaway